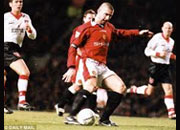 Cantona spent time playing for Marseilles, then Nimes where his fiery personality caused trouble; consequently he was advised to maybe look overseas towards the English game where his temperament and talent may be better suited. Eric signed for Leeds United and that year helped them to win the last ever 1st Division title which paved the way for his move to Manchester United and that famous number seven shirt.
Cantona stayed with Manchester United from 1992-97 scoring a momentous 84 goals. He helped the team to the first two Premier League titles in his first two seasons at Manchester United along with the FA Cup and 1994 PFA player of the year. Unfortunately for Cantona his fiery temper would land him in trouble when playing against Crystal Palace, he lost his cool and kung fu kicked an abusive fan which culminated in a one year ban plus 120 hours community service for assault, he narrowly escaped a custodial sentence.
Cantona was sorely missed in the Manchester United team meaning they lost the league title but one year on he returned to play and they once again won the premiership. In fact Eric Cantona helped his team win six out of seven league titles along with various cup wins. It was following all this success that Cantona surprisingly announced his retirement at the young age of 30.
Cantona never really had the successes he achieved in league football when playing for his national team. His international debut was against West Germany in August 1987 under Coach Henri Michel but he was dropped from the team the following year and was so incensed that in an interview he referred to the coach as "A bag of s**t" consequently finding himself banned indefinitely from the French National team, while Henri later was dismissed when France failed to qualify for the 1990 World Cup.
Michel Platini became the new international coach recalling Cantona to the team but Platini was not a successful manager for the team while replacement coaches Gerard Houllier and Aime Jacquet followed. By this time Cantona had been suspended from football due to the Kung Fu episode plus up and coming striker Zinedine Zidan was chosen to play for France and was proving a huge asset. Following comments off the pitch that he was supporting England in the Euro 96 tournament Cantona sealed his fate and never played for France again. Away from football the artistic French man has had a career in acting while advertising companies snapped him up for product promotion for men's toiletries and for sports products.
Division 1 titles with Marseille 1988/89, 1990/91
Coupe de France Montpellier 1989/90
Football league Division one title with Leeds United 1991/92
Charity Shield with Leeds United 1992
Premier League titles x 4 with Manchester United 1992/93, 1993/94, 1995/96, 1996/97
FA Cup x 2 with Manchester United 1993/94, 1995/96
Charity Shield x 3 with Manchester United1993, 1994, 1996
PFA Players player of the year 1993/94
FWA Footballer of the Year 1995/96
Premier League Player of the Month March 1996
Overseas team of the Decade
Overseas Player of the decade
Following his retirement from football Cantona became captain of the French National beach football team which led to him becoming team manager. He coached the 2006 Fifa Beach Soccer World Cup French national team with some success finishing the tournament in third place but football fans the world over will always remember Cantona for his flair determination and ability on the football pitches of England and France during his exciting football career.