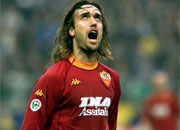 Early Career
Batistuta's first sporting love was basketball, this was probably because of his height but after watching the 1978 World Cup his passion was ignited so the birth of a football legend began. He played on the streets of Argentina then joined the Platense Junior Team where he was noticed and selected for the Reconquista Team who won the provincial championship defeating Newell's Old Boys from Rosario. Newell's Old Boys were so impressed by Batistuta scoring two goals against them that they signed him up from the opposition in 1988,his new coach being Marcelo Bielsa who later became the Argentine coach at the same time Batistuta played for the national team
Batistuta's first year at Newell's was hard for him. He was over weight, living away from the home he loved plus was separated from the woman he loved so by the end of that year he was loaned to Deportivo Italiano, a smaller team in Buenos Aries. He did have a modicum of success with the team scoring three goals in the Carnevale Cup which made him top scorer. 1989 saw a move to River Plate where although he scored seventeen goals things did not go well. Arguments would break out with the team coach Daniel Passarella resulting in Batistuta being dropped from the team mid season.
In 1990 things changed seeing Batistuta sign for Boca Juniors but he did not find his form at all until coach Oscar Tobarez took over the team, giving him encouragement and support resulting in Batistuta becoming the leagues top scorer as they won the championship.
Fiorentina
Batistuta signed for Fiorentina in 1991 after he impressed the vice president of the club during his performance at the 1991 Copa América. His time there had mixed successes as his first season saw him score thirteen goals however the 1992/93 season saw Fiorentina in a relegation battle that they subsequently lost being relegated to Serie B.The following season fortunes looked up and Fiorentina once again gained their place in Serie A. Batistuta scoring 16 goals was a prominent factor in their promotion success. Batistuta enjoyed huge success at Fiorentina he was the top scorer of the 1994/95 season with 26 goals plus the club won the Italian cup and the Super Coppa in the 1995/96 season.
Batistuta was disappointed that his time with the club had not seen them win the Italian championship while Fiorentina desperate not to lose the player made GiovanniTrappatoni coach in their attempt to win the coveted title. Unfortunately things did not work out as hoped Batistuta found himself out through injury leaving Fiorentina finishing in third place but able to enter the champions league battle none the less.
Roma
The 1991/1992 season saw Batistuta transfer to Roma for a fee of seventy billion Italian Lire for a term of three years. It was here that he won his first Scudetto medal scoring 20 goals during the campaign. From Roma he was loaned to Internazionale where his success was minimal so he moved once again to Al Arabi a Qatari team this time on a free transfer. He had great success culminating in the award for the Golden Boot of 2004 for being top scorer in any Arab league.
International Career Playing for Argentina
Batistuta's first match for his country was in the Copa America in Chile where his six goals won him top scorer of the tournament. He played again in 1993 Argentina again the victors. The 1994 World Cup although unsuccessful for Argentina saw Batistuta score a hat trick against Greece plus four goals in four games. The 1998 World Cup was next but Batistuta was at odds with the coach Daniel Passarella so found himself left out of the team in the qualifying matches. Thankfully they managed to put aside their differences and in the match against Jamaica he again scored a hat trick, the first player to achieve this in two world cups.
Argentina played well in the qualifying matches for World Cup 2002 while Batistuta announced he would be retiring from international football at the end of the tournament. Coach Marcelo Bielsa however did not lead the team to victory and Argentina were out in the first round something that had not happened to them since 1962, this was a huge disappointment for Batistuta as it was to be his final international match.
Below are some interesting statistics and facts surrounding his formidable career:
His nickname is Batigol
He played his first professional football match in 1988 scoring his first goal in 1989
His first national game was against Brazil in 1991
His first national goal was against Venezuela
His last national goal was in 2002 against Nigeria
His last ever national match was in 2002 against Sweden
He was the top scorer in Copa America 1991 with six goals
He scored 24 goals in the Qatari league which was a record
He was the top scorer ever in the Arab leagues
He scored 56 goals in 78 matches for Argentina which was a record
He was the fourth player to complete the hat trick at the World Cup plus the only player to score a hat trick at 2 World Cups
He was the Serie A top scorer 1995
Serie A foreign player of the year 1998-1999
Third FIFA world player of the year 1999
Arab Leagues Golden Shoe 2004
Argentine player of the year 1988
Played 414 matches in the league scoring 246 goals
Played 105 matches for Argentina scoring 81 goals