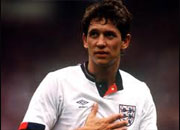 Lineker transferred to Everton in 1985 for the fee of £800,000 while again becoming the top league scorer so helping his team to 2nd place in the 1st Division. Lineker had a successful time in the short period he spent at Everton scoring 3 hat tricks and even scored twice in his final game at the club.
His next move was to Barcelona with a transfer fee of £2,800,000 under the guidance and management of Terry Venables. Lineker had won the Golden Shoe at the 1986 World Cup consequently expectations were very high at the club that he would bring great success. Lineker scored 21 goals in 41 games in his first season. He was loved by the fans especially after scoring a hat trick against their rivals Real Madrid. Lineker was unstoppable as a striker, with Barcelona going on to win the UEFA Cup and the Copa del Rev. Had it not been for a fall out between Lineker and Cruyff over playing positions another season would have beckoned at the club but a move to Tottenham Hotspur and a move back to England ensued.
Lineker scored 67 goals in his 105 games for Tottenham also helping them to victory in the FA Cup while his link up with Paul Gascoigne up front made them a formidable force to be reckoned with. Linekers next move was perhaps the most astonishing of all when he moved to Japan to play for Nagoya Grampus Eight in the summer of 1992. Fans and pundits alike were very surprised and did not think Japan an infant in the football game deserved such a legend as Gary Lineker but Lineker felt otherwise. He was a player past his peak and felt that he had a lot to offer a country that was interested in raising its profile in the game while at the same time he enjoyed life living in another country and culture plus the Japanese people loved him and took him to their hearts. In his 23 games played he scored 9 goals to add to his massive tally.
Lineker's international career for England began against Scotland in 1984, he went on to play 80 matches and scoring an earth shattering 48 goals for his country. The 1986 World Cup saw him scoring a hat trick but it was the 1990 tournament that England will remember with pride. Lineker scored in the early stages then 2 penalties against Cameroon in the quarter finals were followed by a nail biting semi final against arch rivals West Germany. Lineker equalised in the 80th minute and the match eventually went to penalties which unfortunately England lost. The next tournament was Euro 92 where Lineker found himself substituted and unable to surpass Bobby Charlton's goal scoring record. This was his last match for England.
Lineker indeed was a player of superb talent and temperament achieving something that rarely is seen in football today, he did not receive one yellow or red card throughout his footballing career which is a record to be truly proud of. Interesting statistics regarding Linekers playing career are :
Played for Leicester City 1978-85 and scored 95 goals in 194 matches played
Played for Everton 1985-86 scoring 30 goals in 41 matches played
Played for FC Barcelona scoring 43 goals in 103 matches
Played for Tottenham Hotspur 1989-92 scoring 67 goals in 105 matches
Played for Nagoya Grampus Eight scoring 9 goals in 23 matches played
Played for England 1984-92 scoring 48 goals in 80 matches
Awarded the FIFA World Cup Golden Shoe 1986 in Mexico
English League Top Scorer 1985, 1986 and 1990
In 1987 Gary Lineker collaborated with with Gremlin Interactive to release a superstar soccer game in his name - Gary Lineker's Superstar Soccer.
Off the pitch Gary Lineker is now a very popular Sports presenter for the BBC. He is involved in numerous advertising campaigns famously the Walkers crisps advert. Lineker is a footballer to be proud of a gentleman and true legend of the game.