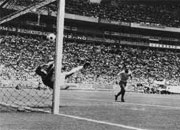 Gordon Banks was born in Sheffield in 1933 and football was definitely not his first career when leaving school as when he played in goal in his teenage years he was renowned for the number of goals he let in rather than saved.
Banks worked as a coalman and a bricklayer after leaving school and got into goal keeping more accidentally than anything when he stepped in to replace an absentee at a local amateur match. His first year in football was in fact quite a disaster and it was not until spotted by a scout who brought him to Chesterfield for the princely sum of £2 per week that things looked up.
Banks spent two years doing his national service and during this time met his wife. When demobbed he rejoined Chesterfield and subsequently in 1959 Leicester City for a £7,000 fee. Leicester however seemed to get to cup finals but not bring the cups home until success came their way in 1964. Banks had now been made goalie for the England team under Alf Ramsay and had a somewhat rocky start but was on the winning side by his third match which was a 4-2 win against Czechoslovakia.
Gordon Banks most memorable tournament was of course the 1966 World Cup at which England reached the semi final without Banks letting in any goals. Eusebio of Portugal's penalty was the first goal scored against Banks. England went on to win the tournament with Banks in goal which makes it utterly surprising that his club, Leicester, would put him up for transfer! Peter Shilton who was to become an England goal keeper himself was Banks' replacement.
Banks was regarded by football greats as one of the world's best goal keepers and his miraculous but skillful saves from players of great ability such as Pele were recognised as world class. He was awarded the OBE and in 1972, was voted footballer of the year which was a great honour as this award rarely was bestowed on a goalie.
Banks career took a turn for the worse following a car accident in which he lost the sight in one eye and being the perfectionist he was realised that he would no longer be the keeper he used to be. Some interesting statistics regarding Gordon banks:
He won 73 International caps
World Cup 1966 England and 1964/72 League Cups
Football Writers Player of the year 1972