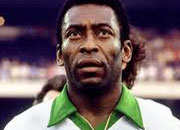 Pele's career began in 1954 playing for a junior side and then progressed at sixteen on to Santos where he played until 1974. The 1958 World Cup in Sweden gave Pele the world stage and he helped Brazil win the tournament for the first time scoring brilliant goals at the young age of only seventeen. By the age of twenty one he was regarded as the best player in the world and played in the 1966 World Cup which Brazil of course did not win and the 1970 World Cup.
He retired from international football following Brazils' hat trick win of World Cup tournaments and from Brazilian club football at the age of 34 but played for two years in America after which he retired for good.
Pele later became the Brazilian minister for sport. Below are some interesting statistics from his career:
South American Player of the Year in 1973
Scored 77 International Goals
92 International Caps
Played in World Cups 1958 (Sweden), 1962 (Chile), 1970 (Mexico) all of which were won by Brazil!
Won the Sao Paulo State Championship 9 times
These statistics show what a truly remarkable player Pele was.