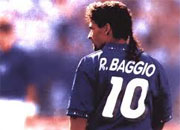 Baggio was discovered by a football scout Antonio Mora and subsequently joined Vicenza in Serie C1 in 1982 and then Fiorentina in 1985 achieving cult status with the fans. His debut game in Serie A was on September 21st 1986 against Sampdoria where he scored his first league goal against Napoli on May 10th 1987.
In 1990 Baggio was sold for a record 10 million Euros to Juventus much to the dismay of fans that rioted in Florence while protesting against his transfer. Baggio always spoke of his love for his former team and even refused to take a penalty against them during a subsequent match. Juventus reached the UEFA cup final in which he twice scored and this proved to be Baggio's only European club trophy while he was named Fifa World Player of the Year and European Footballer of the Year that year and achieved his first Scudetto in 1995.
In 1990 Baggio played in his first world cup and scored the goal of the tournament against Czechoslovakia while a subsequent world cup place followed in 1994 (USA). He was a main stay of the Italian team at this world cup but unfortunately missed a penalty in the final against Brazil by shooting over the bar so awarding the tournament win to Brazil. It is a shame that this is the incident that is always remembered from the tournament especially as Baggio had played so well throughout. Of course the real fans of Roberto Baggio will remember him for the latter.
Baggio's name was linked with English teams in 1995 but actually signed for Milan who won Serie A making Baggio the first player to win the league on two consecutive years with two different teams. A move to Bologna followed in 1997 then Internazionale in 1998 after the world cup which was not the wisest of moves as he did not seem popular with the coach and he subsequently lost his place in the Italian team.
Between 2000 and 2004 he played for various teams and retired in 2004 following an international match on 28th April 2004 to celebrate his great career, while in August 2010 he was appointed president of the technical sector of the Italian Football Federation and in November 2010 was given the World Peace Award.