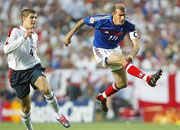 "Zizou" as he is affectionately known was well known for losing his temper. Some people called it passion for the game while others put it down to his harsh upbringing but for whatever reason it would in the future cause problems for Zidane. His next move was to Bordeaux where he had four successful years before moving on to greater things in the form of Italian super club Juventus who paid a mere 3 million pounds for the prolific player in 1996. Success followed the player wherever he went so with Zidane at the forefront Juventus went on to win 2 league titles plus reached 2 UEFA Champions League finals so resulting in Zidane being awarded The FIFA World Player of the year award.
Real Madrid in 2001 was his next move for a colossal 45.6 million pound transfer fee! He was one of many superb players at the club which went on to win the Spanish league plus the Champions League 2001/2 where he scored the winning goal in the final which is still talked about to this day and is considered one of the greatest goals ever scored.
Cantona was sorely missed in the Manchester United team meaning they lost the league title but one year on he returned to play and they once again won the premiership. In fact Eric Cantona helped his team win six out of seven league titles along with various cup wins. It was following all this success that Cantona surprisingly announced his retirement at the young age of 30.
Cantona never really had the successes he achieved in league football when playing for his national team. His international debut was against West Germany in August 1987 under Coach Henri Michel but he was dropped from the team the following year and was so incensed that in an interview he referred to the coach as "A bag of s**t" consequently finding himself banned indefinitely from the French National team, while Henri later was dismissed when France failed to qualify for the 1990 World Cup.
Michel Platini became the new international coach recalling Cantona to the team but Platini was not a successful manager for the team while replacement coaches Gerard Houllier and Aime Jacquet followed. By this time Cantona had been suspended from football due to the Kung Fu episode plus up and coming striker Zinedine Zidane was chosen to play for France and was proving a huge asset. Following comments off the pitch that he was supporting England in the Euro 96 tournament Cantona sealed his fate and never played for France again. Away from football the artistic French man has had a career in acting while advertising companies snapped him up for product promotion for men's toiletries and for sports products.
Division 1 titles with Marseille 1988/89, 1990/91
Coupe de France Montpellier 1989/90
Football league Division one title with Leeds United 1991/92
Charity Shield with Leeds United 1992
Premier League titles x 4 with Manchester United 1992/93, 1993/94, 1995/96, 1996/97
FA Cup x 2 with Manchester United 1993/94, 1995/96
Charity Shield x 3 with Manchester United1993, 1994, 1996
PFA Players player of the year 1993/94
FWA Footballer of the Year 1995/96
Premier League Player of the Month March 1996
Overseas team of the Decade
Overseas Player of the decade
Following his retirement from football Cantona became captain of the French National beach football team which led to him becoming team manager. He coached the 2006 Fifa Beach Soccer World Cup French national team with some success finishing the tournament in third place but football fans the world over will always remember Cantona for his flair determination and ability on the football pitches of England and France during his exciting football career.
Zidane's international career playing for France was every bit as successful as his club career winning his first cap back in 1994 in a friendly against the Czech Republic at which he scored two goals making his international debut memorable for all who watched. Euro 1996 came and went without success but the 1998 World cup was a very different story, played in France their home territory Zidane and his team eliminated the opposition in great style with Zidane scoring twice against Brazil to secure the win. The same scenario followed two years later in the Euro Championships making France the first team since 1974 to win a World Cup and European Championships consecutively.
Zidane retired from international football in 2004 but was tempted back in 2006 to help France qualify for the World Cup which was to be held in Germany. Zidane even captained the side and succeeded in reaching the final their opponents being Italy. Zidane scored a penalty in the first half; this was the thing dreams were made of. The second half was very different as Italy desperately fought against defeat. Then to the amazement of everyone Zidane turned on Marco Matteratzi of Italy violently head butting him in the chest resulting in a red card. It was later admitted by his Nemesis that he said to Zidane "instead of your shirt I will have your whore of a sister "France went on to lose on penalties and so the end of Zinedine Zidanes career on the pitch was over.
Respect for Zidane as a player is none the less high. He is considered one of the greatest players of all time and certainly the greatest France has ever produced. He can be seen from time to time playing in charity matches but as a professional player his time is over. Statistics credited to Zidane are as follows:
UEFA Club Football Awards, Best Midfielder: 1997/1998
UEFA Club Footballer of the Year: 2002
World Soccer Player of the Year: 1998
FIFA World Player of the Year: 1998/ 2000/ 2003
FIFA Silver World Player of the Year: 2006
FIFA Bronze World Player of the Year: 1997/ 2002
European Footballer of the Year (Ballon d'Or): 1998
UEFA Champions League Most Valuable Player: 2001/2002
UEFA Golden Jubilee Poll (Best European player of the past 50 years): 2004
FIFA World Cup Golden Ball Award: 2006
Onze d'Or: 1998/ 2000/ 2001
UEFA European Championship Player of the Tournament: 2000
FIFA All-Star Team: 1998/ 2006
UEFA BEST XI: 2001/ 2002/ 2003
Chevalier de Legion d'Honneur: since 1998
Zidane can be compared to fellow frenchman Eric Cantona for his on the ball flamboyance and magic.