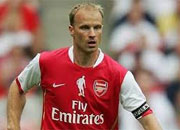 1993 saw Bergkamp move to Italy to play for Internazionale but he found it difficult to adapt to the Italian way of life and more importantly their type of play. Indeed he scored only eleven goals in fifty matches. Bergkamp was not a popular team member while the press really disliked him giving him the worse player of the week award and consequently he only stayed in Italy for two seasons.
By June 1995 he had signed for English team Arsenal and now had to try to adapt to the English way of playing football which he did very successfully and enjoying a great career under new Arsenal manager Arsene Wenger.
In the 2006 season Bergkamp played his final match for Arsenal which was also the last season that the club would play at their Highbury ground before moving to the Emirates stadium. He scored a scorcher of a goal in the 89th minute ensuring that Arsenal was 3-1 winner in their final Highbury match.
Bergkamp played for his national team Holland and in the 1998 World Cup was said to score one of the greatest goals of all time. He in fact played in many international tournaments and retired from international football in 2000. Bergkamp was one of Holland's all time best goal scorers with 37 goals in 79 games. Since his retirement from playing he has embarked on a coaching career. Some interesting statistics regarding Dennis Bergkamp are as follows:
UEFA Cup Winners Cup 1986-87
UEFA Cup 1991-1992
6 FA Cups with Arsenal
3 Premier League Titles
1992 top scorer UEFA
Dutch Footballer of the year 1991,1992
UEFA Cup top scorer 1994
FWA footballer of the year 1998
These are just some of the fantastic achievements of a fabulous footballer who in the words of the great Pele was one of Fifa's top 125 living players.