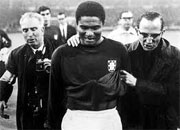 Eusebio's first team was Sporting Laurenco Marquez which was a feeder team for Sporting Lisbon so Eusebio joined them in 1961. Many Portuguese teams were interested in the talented player none more so than Benfica whose coach Bela Guttmann personally travelled to watch Eusebio play, signed him up and took him back to Benfica for the small sum of £7,500. Sporting Lisbon were furious about the deal and the way it was struck but could do little to oppose the transfer.
Eusebio's style of play was superb having an accurate powerful right foot enabling him to score scorching goals with little support from team mates. Described as a one man attack machine his right foot prowess was accredited to him only owning a right footed football boot when a child, while he could run one hundred meters in eleven seconds therefore Benfica were more than delighted with their signing.
In his debut match for the club Eusebio scored a hat trick while Benfica finished the year as league winners. 1962 was equally as successful for the club winning the European Cup with Eusebio scoring two goals in the final against real Madrid. Between the years 1962 and 1970 Benfica won their league seven times due to the skill of their star player who was top scorer seven times in ten years. Benfica also won the Portuguese Cup five times during this period rubber stamping their dominance of Portuguese football greatly due to the great striker.
Eusebio was a dominant force in their national team from the word go so by the time of the 1966 World Cup he was well established as Portugal's star player. Prior to 1966 Portugal had not been successful in qualifying for the World Cup finals but by the quarter finals they were being recognised as a force to be reckoned with and beat North Korea 5-3 Eusebio scoring four of the five goals. Sadly his penalty score in the semi finals against England and Gordon Banks (the first goal Gordan was to concede in the tournament) would not be enough to win the match and Portugal were out of the competition although Eusebio was the top scorer of the tournament while remaining the top goal scorer for Portugal until 2005.
Eusebio ended his footballing career playing for the North American Soccer League where although revered he had minimal success due to knee injuries while playing for Toronto Metros and Las Vegas Quicksilver. A stint with a Mexican team followed before his eventual retirement in 1978. Eusebio achieved many honours during his career:
1962 Silver European Player of the Year and first division top scorer of 28 goals
1965 European Player of the Year
1965 European Cup Top scorer of 9 goals
1965, 1966 FIFA World Player of the Year
1966 World Cup top Scorer of 9 goals
1966 European Cup top Scorer 7 goals and 1968 6 goals
1968, 1973 winner of the Golden Boot
1970, 1973 Portuguese Player of the Year
1991 Portuguese Golden ball
Eusebio's team titles were European Cup 1962, Portuguese Cup 1962, 64,69,70,72
Portuguese League Champions 10 times.
UEFA Presidents award 2010
Most Outstanding Portuguese player of the past 50 years awarded 2010
Ninth best footballer of the 20th century
64 appearances for the national team scoring 41 goals
Finally Eusebio played a total of 390 professional matches and scored a colossal 349 goals during his career a statistic hard to surpass by any professional football player plus an achievement that delights and astounds to this day.
Eusebio is listed in Pele's top 100 fifa players of all time.