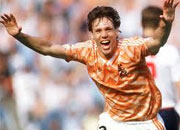 Van Basten signed for Ajax when he was just seventeen years of age which was quite an achievement as Ajax were one of the foremost teams in the Netherlands. He made his debut on 3rd April 1982 when he was brought on as substitute for Cruyff scoring a goal so giving some measure of the player to come. Van Basten scored nine goals in his twenty games played that first season while the following season he gained a regular first team place enabling his fantastic goal scoring ability to come to the fore. He scored 117 goals in 112 matches for Ajax played over four seasons which is a great accomplishment while he was also awarded the European Golden Boot 1985/1986. His total goal scoring tally for Ajax was 151 goals in 172 games which was phenomenal.
1987 saw a transfer to AC Milan where his first season was marred by injury playing a mere 9 games, this ankle injury would be a factor in his retirement. 1992 was a very successful season for both player and club Van Basten scoring 31 goals in 25 matches so helping Milan win the Italian league. Club success was not however repeated at national level for Van Basten as he missed a vital penalty which saw his team eliminated from the European semi finals although his scoring prowess did see him awarded The Golden Ball Award and FIFA Player of the Year.
Van Basten's greatest success at international level was in Euro 1988 where he scored 5 goals throughout becoming the tournament's top goal scorer. He is best remembered in this tournament for his hatrick against England and his most watched and recognised goal - a spectacular volley in the final against the Soviet Union.
The ankle injury that had plagued Van Basten previously unfortunately returned following a fourth operation in 1993 so ending his career in August 1995. Van Basten then moved into management even though he had professed his disinterest in doing so beginning with Ajax's second team then moving on to become the Dutch team coach where he was ruthless in his dismissal of players he judged past their best. He famously dropped Ruud Van Nistelrooy from the 2006 World Cup team even though Van Nistelrooy had previously scored 28 goals for the national side.
At Soccer Fanatic we believe Van Basten's potential was equal to that of the earlier Eusebio of Benfica and Portugal, but due to his ankle injury this potential was never fully exploited.
Some interesting and impressive statistics go hand in hand with the name Marco Van Basten, they are:
Dutch League Top Scorer: 1984, 1985, 1986, 1987
European Silver Boot: 1984
Dutch Footballer of the Year: 1985
European Golden Boot: 1986
Bravo Award: 1987
European Footballer of the Year: 1988, 1989, 1992
UEFA European Championship 1988 Top Scorer and Best Player
European Cup Top Scorer: 1989
Onze d'Argent: 1987, 1992
Onze d'Or: 1988, 1989
Serie A Silver Top Scorer: 1989
IFFHS Best Player of the Year: 1988, 1989, 1990
UEFA Best Player of the Year: 1989, 1990, 1992
World Soccer Player of the Year: 1988 1992
Serie A Top Scorer: 1990, 1992
FIFA World Player of the Year: 1992
European Cup Silver Top Scorer: 1993
FIFA 100 (greatest living footballers picked by Pele): 2004
Van Basten played 133 games for Ajax and scored 128 goals, 147 games for AC Milan and scored 90 goals and 57 games for Holland scoring 24 goals.