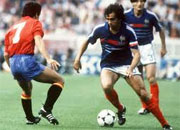 Injury was to dog Platini's start in the league as the following season he was out for the whole time when he sustained a broken arm and Nancy were relegated making this a bad start to Platini's top flight career.
The following season things began to look up as scoring 17 goals helped Nancy to regain their position in Ligue 1.Platini also excelled at the Montreal Olympics in 1976 which sealed his position with Nancy culminating in the signing of a permanent contract with the club leading on to captaining the side to victory in the French Cup against Nice where he scored the winning (only) goal of the final.
His next move came in 1979 after the World Cup when Platini moved to Sainte Etienne where during his 3 year stay he won the league but European success eluded him despite 6-0 and 5-0 wins respectively over PSV Eindhoven and Hamburg finally seeing Platini move to Juventus which would be his final transfer in league football while also being his most successful.
Platini had a baptism of fire in his first few months at Juventus as he was followed everywhere by the media but as success ensued so his popularity grew especially as Juventus lifted the Italian Cup while also getting to the European cup final. The 1984, 1986 league titles followed while the absolute pinnacle of his career saw him lift aloft the 1985 European Cup.
Platini's international career spanned from 1976 -1987 beginning at the 76 Olympics. As French captain he led the team to the 1982 World Cup finals where they were beaten in the semi finals on penalties 5-4 by West Germany. The European championships followed in 1984 where Platini led his side to victory winning the tournament in their own country. He was instrumental in France's performance scoring 2 hat tricks plus a goal in the final match which proved what a world class player of superiority he was.
Platini was also a pivotal player for France in the 1986 World Cup finals even though he was dogged by injury throughout and in excruciating pain at times while France came a respectable third in the tournament. Platini retired from International football in 1987 having scored 41 goals for France during his career which is a fantastic achievement any player would be proud of.
Coaching the French national side followed 1988-92 although it was a largely lean period for the team without noticeable success in the coaching arena that he had enjoyed as a player. Platini then worked his way up the administrative ladder culminating in the UEFA Presidency in 2007.
Statistics of Interest regarding the career of Michel Platini are as follows:
1976 - French Player of the Year
1977

France Football French Player of the Year
L'Équipe French Champion of Champions

1979 - Selected in FIFA XI to play Argentina
1983

(top scorer) in Italian championship (16 goals)
Coppa Super Clubs player of the tournament
European Championship top goal scorer (9 goals)
European Footballer of the Year
Guerin Sportivo magazine's player of the Italian championship
L'Équipe French Champion of Champions
Onze d'Or
World Soccer Player of the Year

1984 - Captained and won Euro 1984 with France scoring nine goals in the tournament
1985

Capocannoniere (top scorer) in Italian championship (18 goals)
Chevron Award (best goal per game ratio in Italian league)
European Cup top scorer (7 goals)
Ballon d'Or
Onze d'Or
World Football Player of the Year

1988 - Officer of the Legion of Honour
1991

El País European Coach of the Year
World Soccer Manager of the Year

2003 - Artemio Franchi Prize
2004 - Named in FIFA 100
2007 - Elected UEFA President.
2008 - Inducted into the English Football Hall of Fame, voted All-Time Great European Footballer. Platini is the only player outside England to receive this award
For more french superstars also read about and watch some of the goals from a more recent hero - Zinedine Zidane.